Joined

Aug 10, 2021
Messages

6,418
Reaction score

14,546
Location
Emira Status

Emira on order
We were able to see all the FE colours on complete or nearly complete cars during our visit to Hethel yesterday. These were in two places. Most were in the production hall, a large hangar with high ceilings and well-lit artificial light plus some big windows down one side letting in the bright sunlight on the day of our visit (you may have seen Lotus photos of this hall). The second place was a large storage area for completed cars with artificial light and no windows.
It was confirmed that none of the FE colours are carried over from previous Lotus models or other manufacturers. They are unique to the Emira and to Lotus. All of the cars and panels we saw had an excellent depth and finish. Some were mid production so had not had full QA or final polish.
They all looked great and had more depth and complexity than either the configurator or small samples can convey. The shape of the car means there are a lot of changes of surface angle and the paints really flow and change colour and reflectivity with angle and lighting. This accentuates the curves. The paints also change very noticeably between bright sunlight and shade and artificial lighting/shade. The nose boomerang vents create an interesting effect, as they draw your eye to a rapid change of surface curvature moving to darkness inside the vent, so you get lots of interesting variation. Side-lit at sunset or overhead lit at midday the bonnet and vents will look very different - both equally interesting. Similar effects with the side scoops and between dark and lit areas of the car.
The colour, mix, granularity and density of metallic flake also varies between the colours. The effect is strongest on Magma Red, which really pops and sparkles in strong direct light and you can see the flake and slight colour variations between flake types from even 6-10 feet away.
Seneca Blue is more subtle, with the flake seeming smaller and higher density, so you have to be standing quite close to the car, within touching distance, to see it has a metallic flake. From further away it can appear solid or metallic depending on angle and lighting.
How on earth you will be able to take a decent photo of these cars, I have no idea! In person they look stunning, classy, interesting. I think we could have stood and looked and moved around each car all day, enjoying the effects.
My thoughts on specific colours:
Hethel Yellow:
not the same as previous Lotus yellows but does have a characteristic mustard tone to it, which gives it warmth. Bright but not lemon bright. It's not metallic but that really shouldn't be a concern. Do not get this colour unless you are prepared for every journey to need extra time to talk to everyone who stops to talk to you about the colour and the car. It is bold and bright, but not "flashy", which I put down to the mustard warmth. Can't wait to get mine!
Magma Red:
as mentioned above the flake is really special on this, a mainly gold flake with larger particles and some variations from dark to light. The red is rich and dark and changes a lot across the surfaces and between sun and shade. Eagle7's recent renders are very close to the colour as seen from a distance, but it's very hard to do justice to the metallic element and variation with surface and lighting. I don't think it'll get many "nice Ferrari mate" comments, as it's nowhere near that red.
Nimbus Grey:
this is not as "plain silver" as I was expecting, it is much more complex. Sometimes like a liquid metal effect (if you've ever stirred a pot of metallic silver paint to get it to mix) and it has some undertones of light brown and cream. It behaves a bit like Storm Titanium on the previous Lotus cars, but isn't that colour, in the way it changes colour and tone with angle and lighting. Really classy and not "boring silver" or "resale grey".
Shadow Grey:
the silver and blue fleck (yes really) in this give it a lot more flow than is apparent in the pictures of the dynamic prototype. This is another "chameleon" colour, with the colour and shade changing across the surface and switching from darker in shade to brighter in light. Like Seneca, the metallic element is more apparent close up and is less obvious from a distance. If it had a personality you'd maybe describe it as being like someone who is quietly confident and understated but powerful.
Dark Verdant:
is not Empire/Imperial Green. It is slightly lighter than that but not by much. We saw a car in part sun part shade and the sunlit part was clearly green and you could see the metallic flake in it from a few feet away. The shaded side was dark, almost but not quite black, and the metallic virtually invisible from a few feet when darker. The interesting thing with the many curves on the car is how the colour flows and changes a lot as the surface changes and as you move around the car. Yes it is dark and in some lighting does look almost black, but it looks classy and in some ways mysterious and enigmatic, if that makes sense.
Lotus have been using up various left over Exige/Elise paints and trying out a few other colours on the pre-prod cars. We saw:
solid red - looked great but would fall into the "nice Ferrari" trap
Arctic Silver - I had on my Elise and it looked great on the Emira, is very metallic-looking
Starlight Black - a gloss black with a fine silver metallic flake, which looked lovely
a grey that looked like Nardo Grey but was apparently a Ford colour and looked great
a darkish blue, possibly Essex or Nightfall
a white one - looks fabulous and I hope they make it available later as I know many people will want it (I'm hoping the car we saw is the one being used for a special early press review, so you may get to see it)
lots of cars in "crash test blue" which, like all the other pre-prod cars, are destined to be crushed after testing is complete
Here is what
@Evotion
posted on another forum:
First impression.. It now ALL makes sense. People have often mentioned "why didn't they just release the FE in traditional colours that we all know and like".
It was immediately clear to me that Lotus wanted to show just how damn good the paint is and also to exude prestige and class. Shadow Grey is perhaps the most similar and standard to other makers and the Seneca Blue, somewhat comparable to other cars, has an ability to look both interestingly pastel and metallic. The other colours are full of depth and quite unique.
Hethel Yellow - I would call this a classy yellow. It is yellow with a warmth to it. That English Mustard soft hue perhaps in one layer. Do not worry about this being the only non-metallic colour. it pops out the most of all of the colours, strikingly bold, yet luxuriant.
Magma Red - Wow. Ha. Better than I had even hoped. The colour travel on this is remarkable. The speckle in the metallic on this and the other metallic cars is amazing and really makes them stand out. This red I have not seen before. it is NOT Fire Red. It pops more in light, with a lovely gold fleck and the colour in the shade is rich and exudes quality.
Nimbus Grey - Ha. No grey on this car, except perhaps from space. it is a stunning colour which I would call Super LIght Bronze Silver. It has this bronzey, browny subtle tint which lifts it up from being 'just' a silver car. Again, Lotus have gone for a look or richness and quality. Stunning. If you have ordered this you will be blown away.
Dark Verdant - Yes, the clue is indeed in the name. It is very dark and I thought it was a black car until about 4 yards away from it. We shone light on it and the heavy fleck then really pops and I have a feeling it will feel the most prestige colour of all but it is dark, no getting away from that. Personally, I would not get a black roof with this colour. I think it would look great with silver wheels as complete contrast package to drop jaws.
Other colours - well, we saw a white car which would possibly be THE colour to go for on the next editions such is the powerful play of white on black. We saw a black car, which still suited it, and we saw a Ferrari Red car, again fabulous and likely to make it to the next edition options.
We also saw a car with the black pack roof.
If you came here from my Hethel visit write up then you can get back there through this link: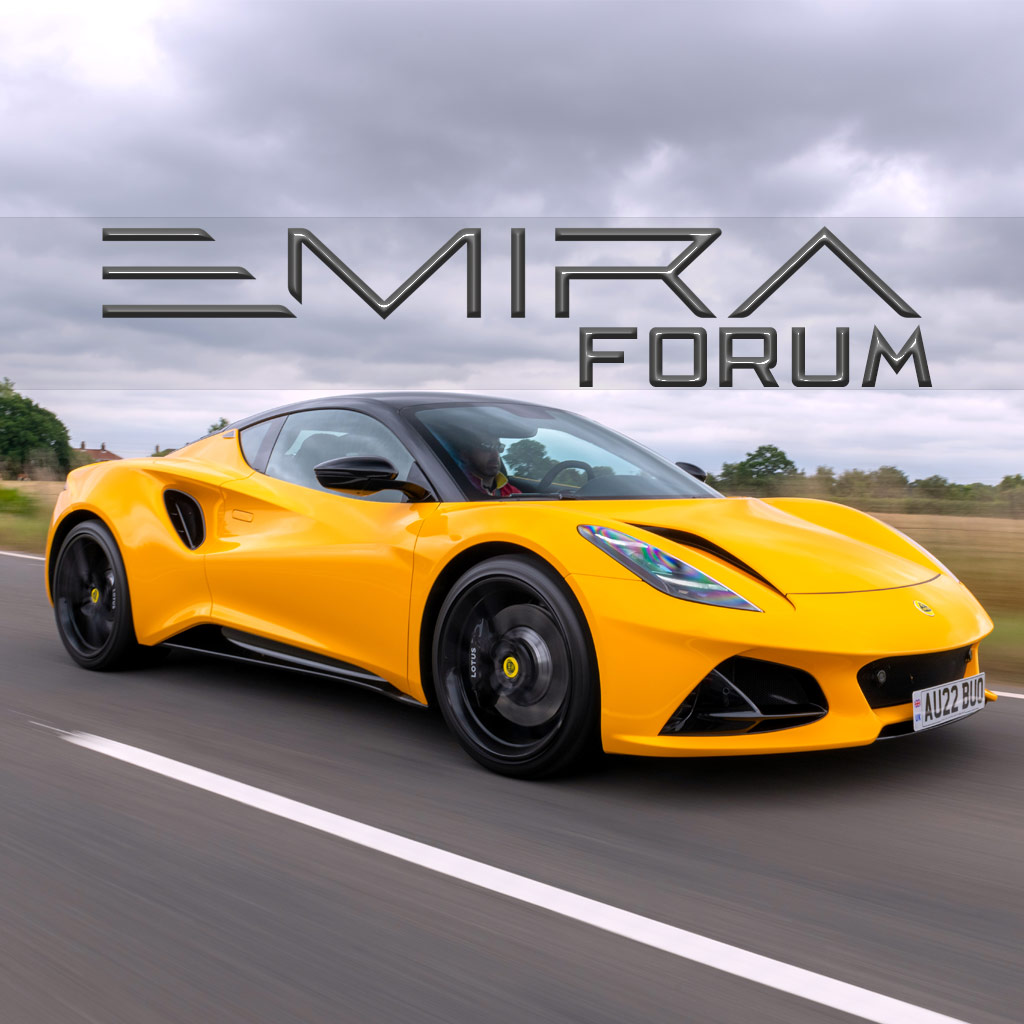 I've got lots to share from my day at the Lotus Hethel factory and test track yesterday. Bear with me, it won't all be in one post and I will add to this thread during today and tomorrow. I'm also adding updates on relevant threads too, such as about specific features and the process in the...

www.emiraforum.com
Last edited: