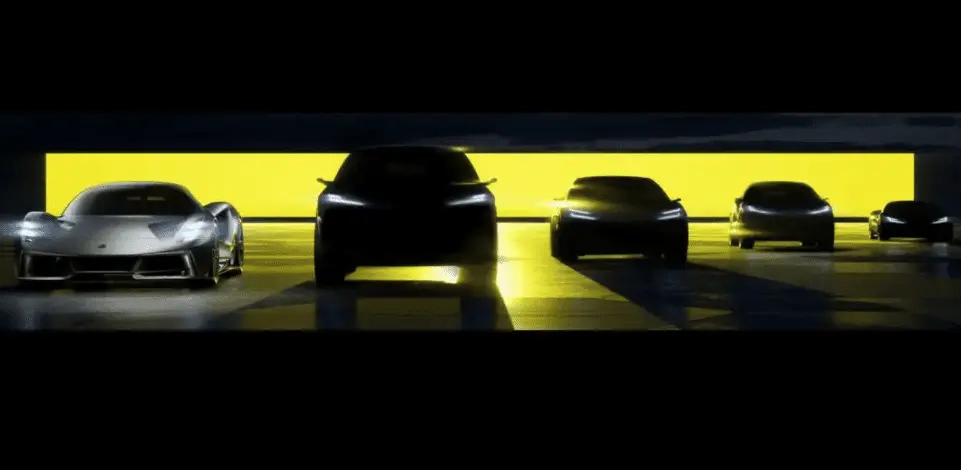 Lotus Technology has officially launched its global headquarters with a 'breaking-ground' ceremony in Wuhan, China.
​
Lotus Technology is a new division of Group Lotus, a global 'intelligent technology' subsidiary which augments the brand's DNA and technology accumulated over the 73 years that Lotus has existed. Its role is to accelerate innovation in the fields of batteries and energy management, electric motors, electronic control systems, intelligent driving, intelligent manufacturing and more.
The new Lotus Technology headquarters will be completed in 2024. An all-new Lotus factory, to manufacture Lotus electric vehicles for global markets, will open later this year.
Eric Li, Chairman of Geely Holding Group, and Feng Qingfeng, CEO of Group Lotus, attended the event. They were joined by Li Bin, founder of NIO, who is an investor in Lotus Technology. They revealed top level details of the Lotus product plan for the next five years, developed jointly by Lotus Technology and the highly experienced Lotus team in the UK.
In 2022, Lotus will debut an E-segment SUV codenamed Type 132. It will be followed in 2023 by an E-segment four-door coupe, Type 133, and in 2025 by Type 134, a new D-segment SUV. This trio will be joined in 2026 by an all-new electric sports car, Type 135.
The new models are in addition to the Evija all-electric hypercar and the Emira, the last petrol-powered sports car from Lotus, which will both be built at Hethel, UK.
In the field of intelligent drive, Lotus unveiled the concept of 'track-level intelligent drive' as a 10-year technological development target. The new technology's aim is to assist drivers to perform as well as an F1 driver on track, while increasing driver safety and improving performance on the road through advanced software and hardware. The result is a more rewarding and reassuring experience in any environment.
The development of the brand's new premium lifestyle vehicles will take place on the Lotus Premium architecture, one of the four new vehicle platforms announced at the Driving Tomorrow global strategy conference in April. The Premium architecture supports a wheelbase range from 2,889mm-3,100mm and could be further expanded in the future. It supports the development of all types of passenger vehicles from C+ to E segments. Using 92-120kWh batteries, it is compatible with the industry's most advanced 800-volt high-speed EV charging system. Products developed on this platform will be capable of 0-100km/h acceleration in under three seconds.
Vision80 is the ongoing strategic plan which outlines the transformation of Lotus ahead of its 80th birthday in 2028. The establishment of Lotus Technology marks a crucial step on that journey of global expansion, and on the road to an intelligent and electric future. In the era of intelligent electric mobility, Lotus will once again set the standard for performance, redefining the relationship between man and vehicle, and help the global automotive industry in accelerating the pace of its transformation.
Since being founded by Colin Chapman in 1948, Lotus has led the industry in innovation with its commitment to pure driving, outstanding ride and handling, lightweight technologies and world-class aerodynamic engineering. Today, with the backing and global resources of Geely Holding Group, Lotus benefits from new capabilities in R&D, manufacturing and supply chain management, enabling it to provide global customers with a more innovative and exciting driving experience.
The new Lotus manufacturing plant in Wuhan will open later this year, complementing existing UK sports car manufacturing and performance facilities in Hethel and Norwich. It is being built with the world's most advanced manufacturing technologies to become a global centre of excellence for Lotus' premium lifestyle models. Covering an area of over 1 million m2 with an investment of over 8 billion RMB (£900m), the plant has the capacity to ramp up to production of 150,000 vehicles a year.
The new Lotus plant is the first in the world with an integrated intelligent test track. It features an advanced system whereby vehicles can be transported into workshops using autonomous driving technology without any human intervention. It is designed to accommodate vehicles driving at speeds up to 140mph (230km/h) through 16 corners.
Working hand in hand, China-based Lotus Technology and the UK-based Lotus team are at the core of Group Lotus' future development strategy. Lotus in the UK will be responsible for the development and production of sports cars and the Evija electric hypercar, as well as co-ordinating global sales for the Lotus brand. Lotus Technology in China will be responsible for integrating a new generation of lifestyle products, bringing together China's EV and manufacturing specialisms, UK's design and advanced performance centres and Germany-based R&D resources (Lotus Technology Innovation Centre, Raunheim), as well as the global development and production of premium intelligent drive technologies. Together the China and UK teams will empower Group Lotus' transformation towards an expanded, intelligent and electric future.
Feng Qingfeng, CEO, Group Lotus, commented: "This is an important day in the transformation of the Lotus business and brand. Lotus Technology will accelerate the innovation which has always been at the heart of the business. Together the China and UK teams will empower our journey towards an expanded, intelligent and electric future, achieving the ambitions and goals that have been in the making for 73 years of the Lotus brand."
Matt Windle, Managing Director, Lotus Cars, commented: "Transforming Lotus from a UK sports car company to a truly global performance car company has always been at the core of Vision80. The launch of Lotus Technology is a major milestone on the road to making that a reality, while adhering to the unwavering Lotus principles of pure performance, efficiency, motorsport success and, above all, being 'For the Drivers'."
Li Bin, the founder of NIO, has become an investor in Lotus Technology. Lotus and NIO share many common interests in the field of intelligent electric mobility. In the future, both parties may explore opportunities for mutually beneficial industrial cooperation.
The global automotive industry is undergoing profound changes today. As the world's largest and fastest-growing electric vehicle market, China plays an important role in the transformation of the global automotive industry. With its brand mission of always being 'For The Drivers,' Lotus will be centre stage, redefining the standards for an intelligent and electric future. .