Joined

Nov 21, 2021
Messages

2
Reaction score

9
Location
Hi guys,
Happy to join you on this forum. As you might guess I just deposited for an Emira
Very excited abt it.
Booked the i4 FE, not as glamourous as the V6 off course, but the only fitting my budget ...
The gap between V6 and the i4 is not so huge, but here in France we introduced few years ago a nice Eco Tax based on Co2 g/km which adds another 40k EUR to the V6 for 2022 and will jump to +50k EUR for 2023 ... No discussion about the idea behind the tax, certainely good, but unfortunately it hits us very hard on cars like the Emira V6 or Porsche 911 / Cayman.
I currently own a very nice Black Alpine A110. For those of you who might not know the Alpine, its an incredibly joyfull and agile sportscar weighing only 1100 kg with the 1.8l V4 engine of the Megane RS. Being rather track oriented, mine is a bit stiffer and developps 304 HP with 420 Nm of tork
So why the Emira ? ... Well, that's a pretty good question, hahaha... Probably because it looks incredible! Maybe also because I hope to extract more from the Mecedes Engine/gearbox couple. I'm not expecting a better chassis but I'm pretty sure Lotus engineers did a great job again. Also because I thought about owning a Lotus since saw the Exige 430 and I heard that sound (I know it's a V6 and I will not get one...).
Now I must be honnest, despite the look and the great engine, I'm a bit worry because of it's weight.
It's so much not Lotus like for me.
So driving it will really be the key, and coming from a prepared Alpine, the challenge is not going to be easy ...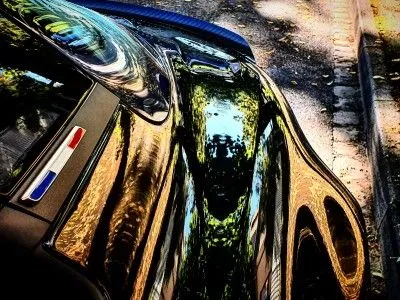 Alpine A110